BIRTHDAY PARTY ENTERTAINMENT FOR CHILDREN

Amazing shows, Birthday party entertainment for children, kids birthday magician, magic shows and disco for birthdays, party entertainer Portsmouth, Southampton, Chichester and surrounding areas.
Birthday shows with Magic Charlie. He has been creating magical memories at birthday parties and helping parents make their children's day unforgettable for over 20 years. In that time he has hosted thousands of parties and was even asked twice to perform for the Royal children.
BIRTHDAY SHOWS AND OPTIONS
COMEDY MAGIC SHOW - Option 1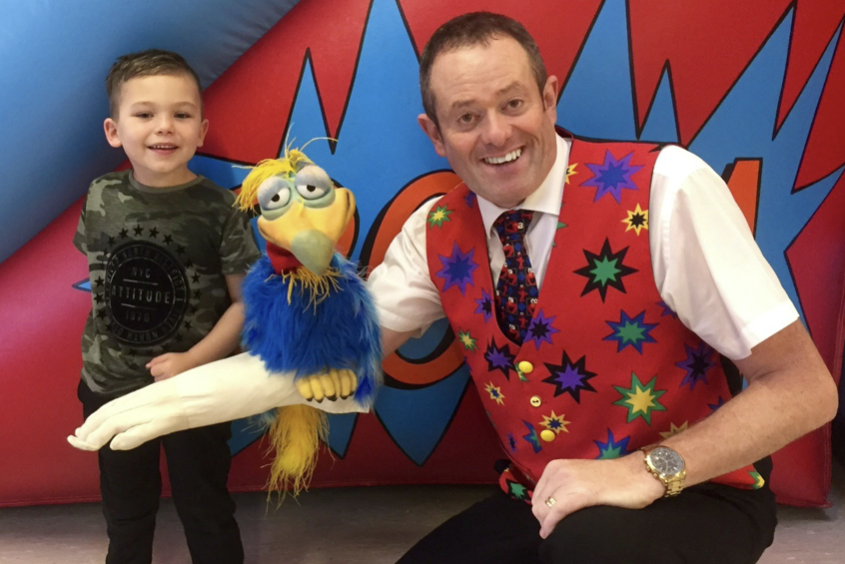 A Duration of: 45 Minutes.
The hilarious comedy magic show is always geared to the age group of the children. It's ideal for parties where you the parent/s may want to get more involved and will sort out your own party games and supply your own music and all the prizes. These show are very interactive and full of colour plus there's lots of audience participation to give the children the chance to join in and come up to help, Plus as an amazing finale. There will be the appearance of his pet parrot Pongo (Puppet.) Who will have the children in stitches and helps to magic up goodies for the children.
MUSIC, MAGIC & GAME SHOW - Option 2
This show takes place: (at a point chosen by you during your party time.) This package contains all the features of the Fun Comedy Magic Show above, but there's also great music and a non-elimination party game too. This option is great for any after school parties when the full two hours maybe just a little too long after a full day at school.

THE MUSIC, MAGIC & GAMES SHOW - Option 3
This package has all the same fun as option 2 above but with an extra 30 minutes of fun. I can either stop so that the children can have a short party food break approximately halfway through, Where I will interact with the children and play background music to keep the atmosphere going. Until they have finished where I will carry on with more entertainment.
Alternatively, I can entertain for the 1.5 hours straight through and then hand the children over to you at the end for their party food. (With this option, you may need to have some music and a game up your sleeve for any children that finish eating early.)
Again this package is ideal for after school parties when the full two hours maybe just a little too long after a full day at school.
Below you will find my 3 various 2 Hour Stress-Free Party Packages.
In the bronze, silver and gold packages, I'll run the whole party for you. That's why it's called the Stress Free option. You also get a chance to relax, sit back and enjoy the party too. There's lots to keep the children focused and entertained such as Amazing comedy magic with lots of audience participation. Juggling, Plate Spinning and Puppets.
There are lots of fun (non-elimination) party games, mixed up along with some more traditional games as well as dancing and party dances. The Birthday child will be made the absolute star of the show. I supply all the prizes and giveaways needed throughout the entire party and nobody is ever left out. Every child leaves with something to take home with them.
A FREE handy party hints and tips guide.
A FREE party timeline to help you plan your special day.
A FREE guest info sheet. (to list the guest's parent's emergency contact numbers if they are not staying and to log any dietary requirements or allergies that they may have.)
I offer three 2 hour packages for you to choose from, either:
Bronze, Silver or Gold please see below…
THE MUSIC, MAGIC & GAMES SHOW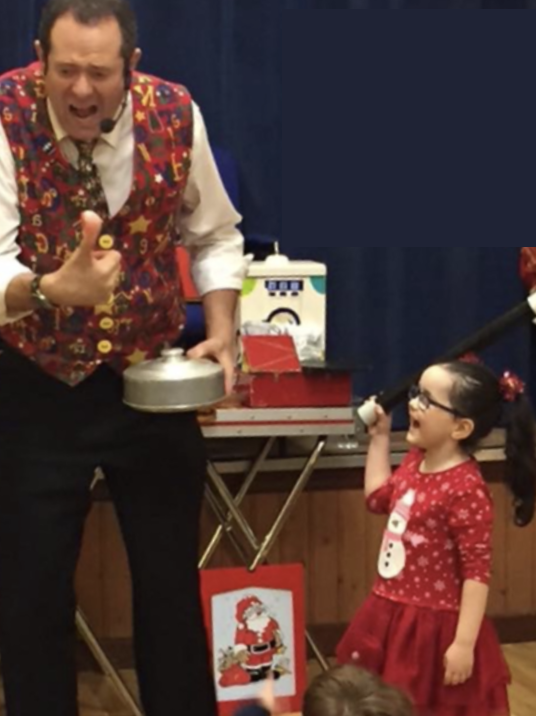 Duration of: 2 Hours. (With a short break for party food roughly halfway through.)
In this package has all of the above, in packages 2 and 3. but with an extra 30 minutes of fun and games. I'll run the whole party for you in a calm relaxed manner, giving you the chance to sit back, relax and enjoy all the fun off the party as well as the children.
MINI-DISCO, MAGIC & GAMES SHOW
The Duration of this package is: 2 Hours.
All of the above in the Bronze package with the added bonus of a couple of Disco lights to enhance the party. Ideal for any little ones who want to feel a little more grown-up. and want to party and dance to all their favourite songs and party dances.
"BY FAR THE MOST POPULAR PARTY PACKAGE"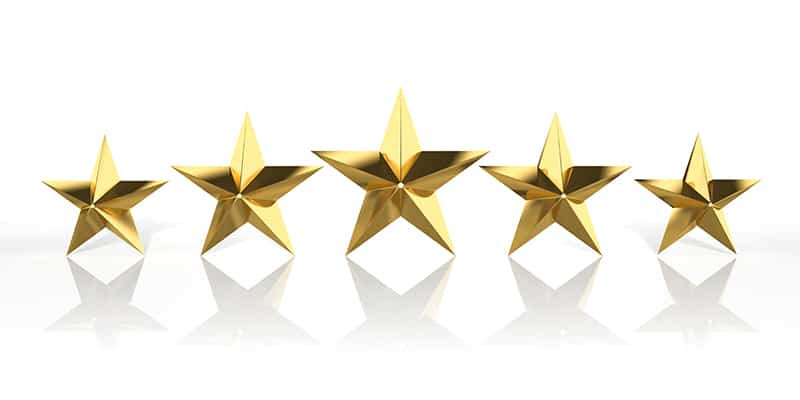 THE ULTIMATE 2 HOUR PARTY PACKAGE
All set up and ready to party.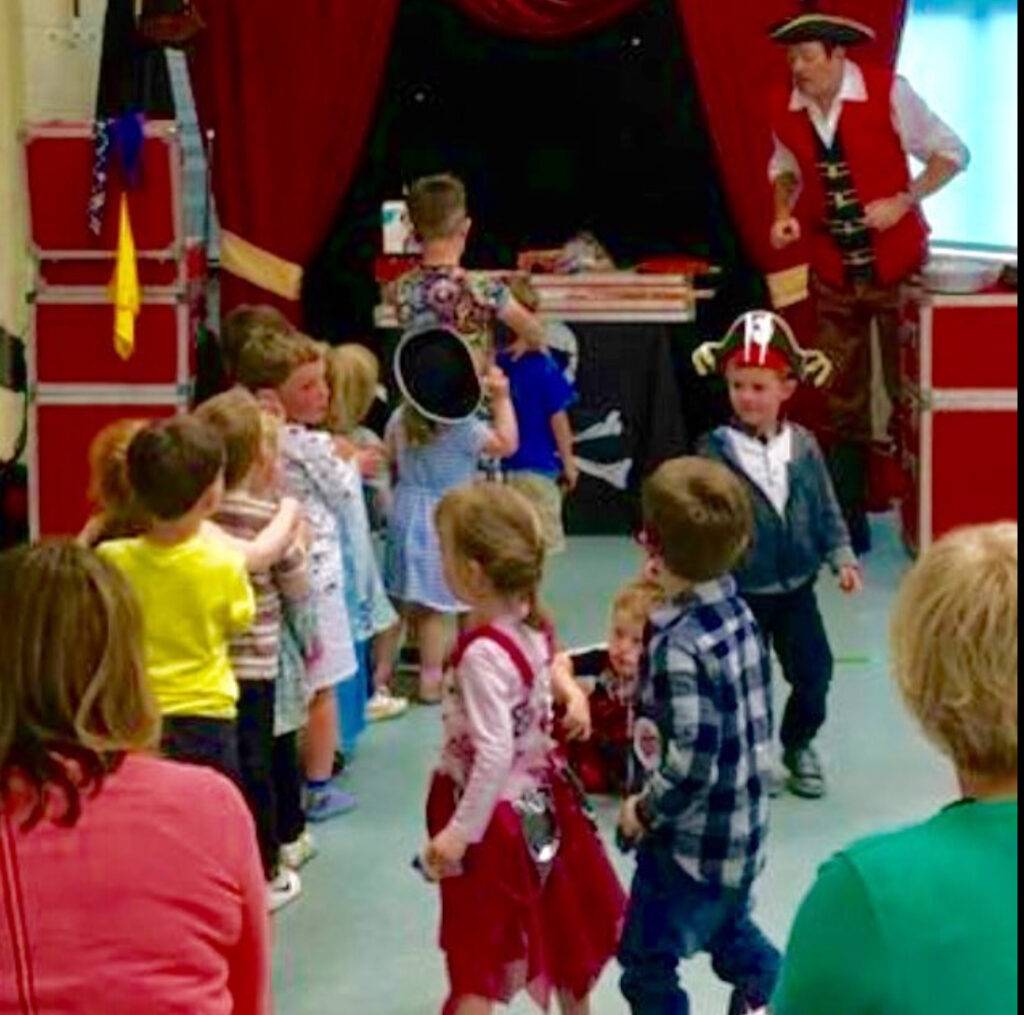 THE DISCO, MAGIC & GAMES SHOW
Duration: 2 Hours. (With a short break for party food roughly halfway through)
The Ultimate party package has all the fun of the Silver package above, plus lots and lots of amazing extras.
Also included in this package, I supply.
* A state of the art theatrical backdrop. Ideal as a scene-setter and great for photographs.
* Extra disco lights.
* All prizes required.
* Plus FREE full-colour glossy Party Invitations. (if required)
The birthday child will receive:
* A birthday gift.
* A full-colour printed personalised magical helpers certificate.
* A personalised full-colour birthday card.
* An extra special large balloon made by Charlie.
* An amazing Magic DVD or a Magic Set (depending on the age of the child)

WATCH A SHORT VIDEO OF CHARLIE IN ACTION.
LAUGHTER AND SMILES GUARANTEED
If you'd like to make an enquiry simple fill in the simple "Enquiry Form" below with and I will get straight back to you.
Birthday shows in Portsmouth and Southampton,
Disco Shows in Otterbourne and Winchester,
Children's entertainers Hampshire, Party magician Fair Oak, Southampton Magician, Balloon Twisting in Bognor and Chichester, Infant School and Preschool Magician, Pirate show Petersfield, Party Magician Gosport and Fareham, Magic Workshops, Birthday shows in Stubbington and Locks Heath, Virtual Zoom Parties, Party Games show Eastleigh, Cruise Ship Entertainment Worldwide.
Charlie is proud to be a members of the following well respected Clubs and Organisations