OTHER SHOWS AND VARIOUS ENTERTAINMENT
Other shows Magic Charlie has to offer are listed below. Charlie is not just a birthday party magician and family entertainer. He regularly performs his various shows at many other events and occasions. If you are looking for something other than birthday party shows please check out his various options and characters below.
Charlie's Various Fun Characters
CHARLIE THE MAGICAL PIRATE
IDEAL FOR NAUTICAL EVENTS & OCCASIONS 
CHARLIE THE FRIENDLY WIZARD
IDEAL FOR HALLOWEEN EVENTS
CHARLIE THE CLOWN IDEAL FOR CIRCUS THEMED EVENTS OR IF YOU NEED TO GRAB ATTENTION
Fetes, Festivals and Fundays
If you're looking for entertainment at a fete, festival or fun day. Charlie has a wide range of entertainment available whether it's a static comedy magic show or different shows throughout the day, mix and mingle entertainment where he wanders around mingling amongst your guests entertaining them with magic tricks, comedy props and balloon twisting.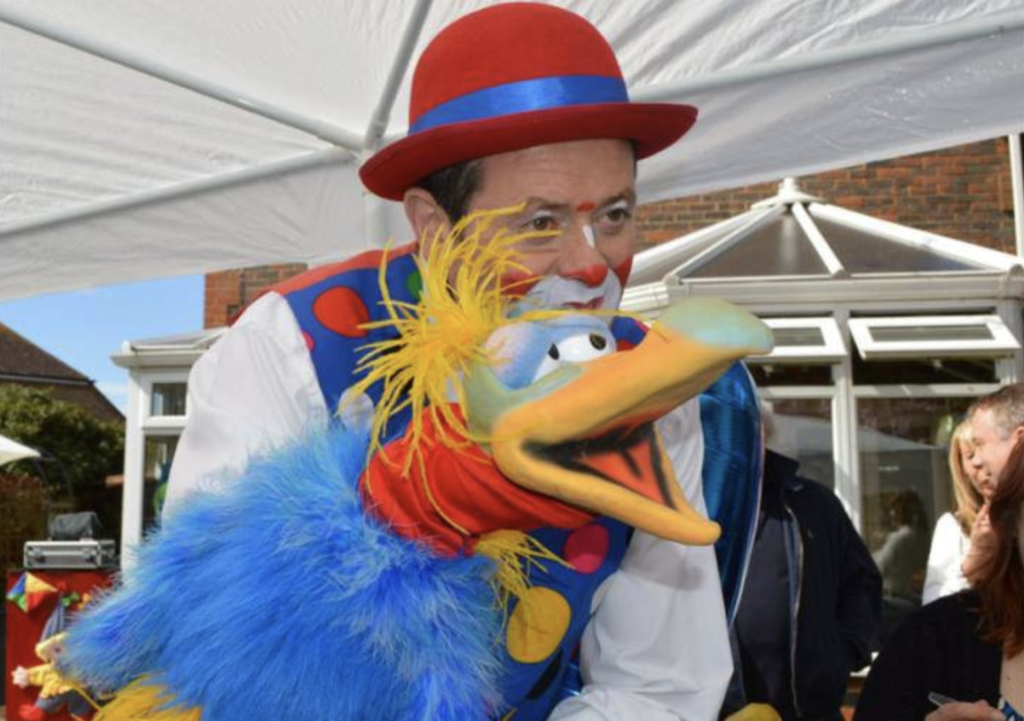 WITH PONGO THE PARROT ENTERTAINING THE CROWD AT AN OPEN DAY.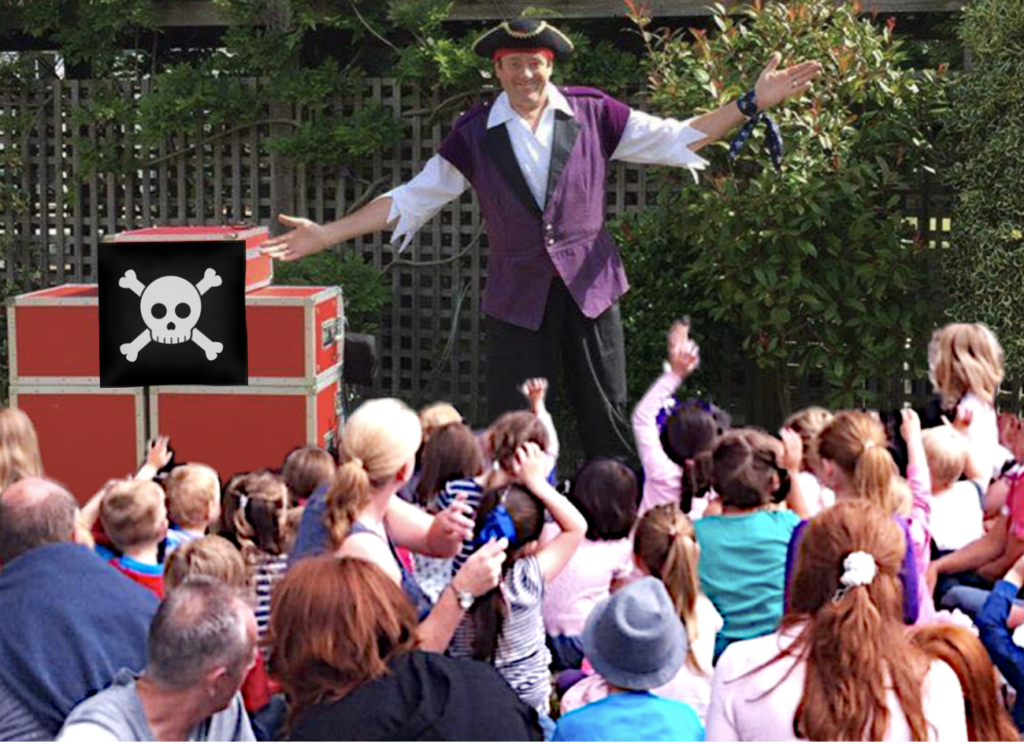 AT A CORPORATE FAMILY FUNDAY IN BROCKENHURST HAMPSHIRE
A YOUNG HELPER ASSISTING CHARLIE THE CLOWN IN HIS MAGIC CIRCUS SHOW
Weddings, Christenings & Family Celebrations
Charlie regularly performs at many Weddings, Christenings and family celebrations whether it's a 40th, 50th, 60th, 70th, or even 80th birthday party or Anniversary, Charlie has a wide variety of entertainment skills that will complement your event. For Weddings Charlie can entertain the children in a separate room whilst the speeches take place, he can also perform close-up magic around the tables for the children and adults at the table or can mingle around entertaining your guests to keep them occupied whilst the photographs are taking place.
Comedy Magic Show
Close Up Magic
Balloon Twisting 
Or a combination of all of the above.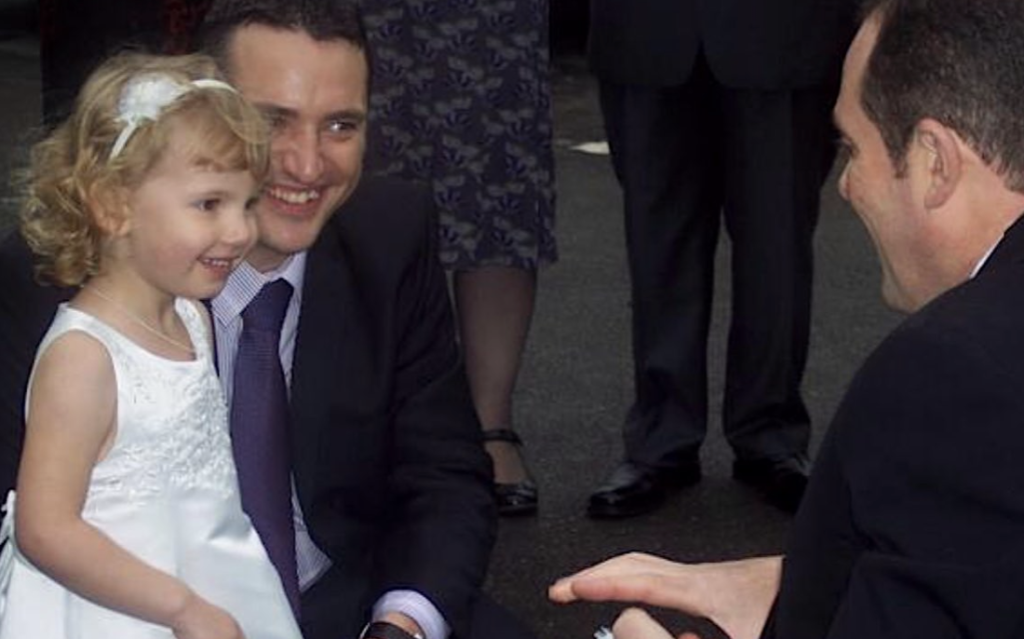 ENTERTAINING THE GUESTS AT A 60TH BIRTHDAY GARDEN PARTY.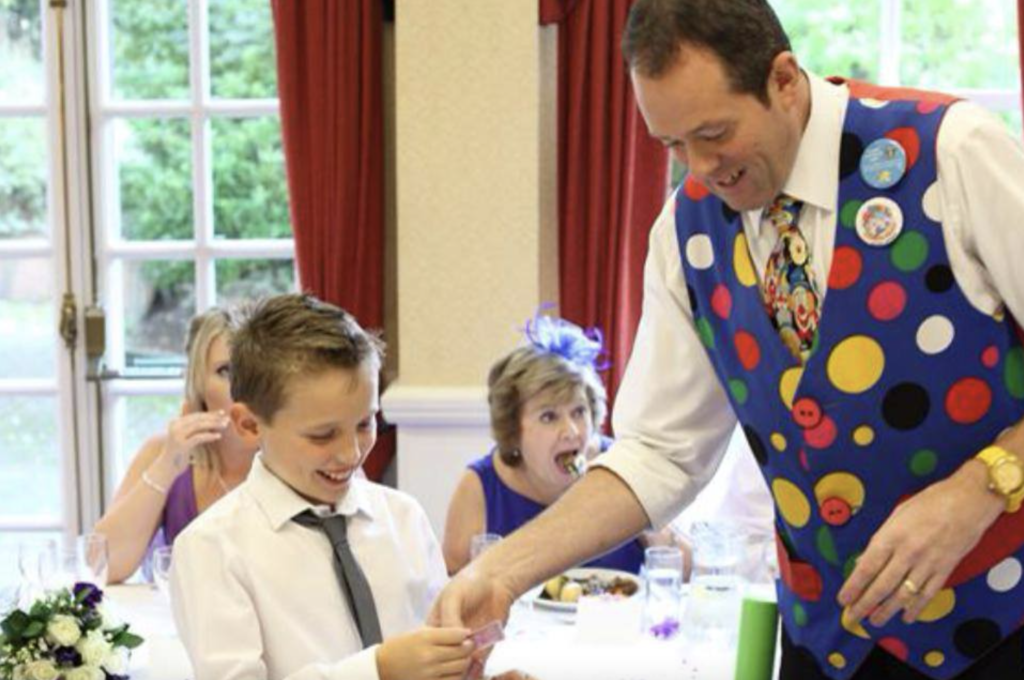 CHARLIE ENTERTAINING GUESTS AROUND THE TABLES WITH HIS MAGIC AND COMEDY.
PERFORMING CLOSE UP MAGIC AT A WEDDING IN THE NEW FOREST HAMPSHIRE.
Corporate and Military Events
Charlie has a wide range of entertainment to suit corporate and military events. Charlie regularly performs at many Army, Royal Air Force, and Navy barracks and bases for their family fun days and Christmas , Easter and Halloween events. Charlie also regularly entertains on-board naval ships for their families day and also at many Naval homecomings. He also entertains at company/corporate fun days, open days, at museums, visitor attractions, in shopping centres and also for product launches and promotions. You can book Charlie for the following.
Comedy Magic Show.
Music, Magic and Games Show
Disco, Magic and Games Show
Balloon Twisting
Mix and Mingle Entertainment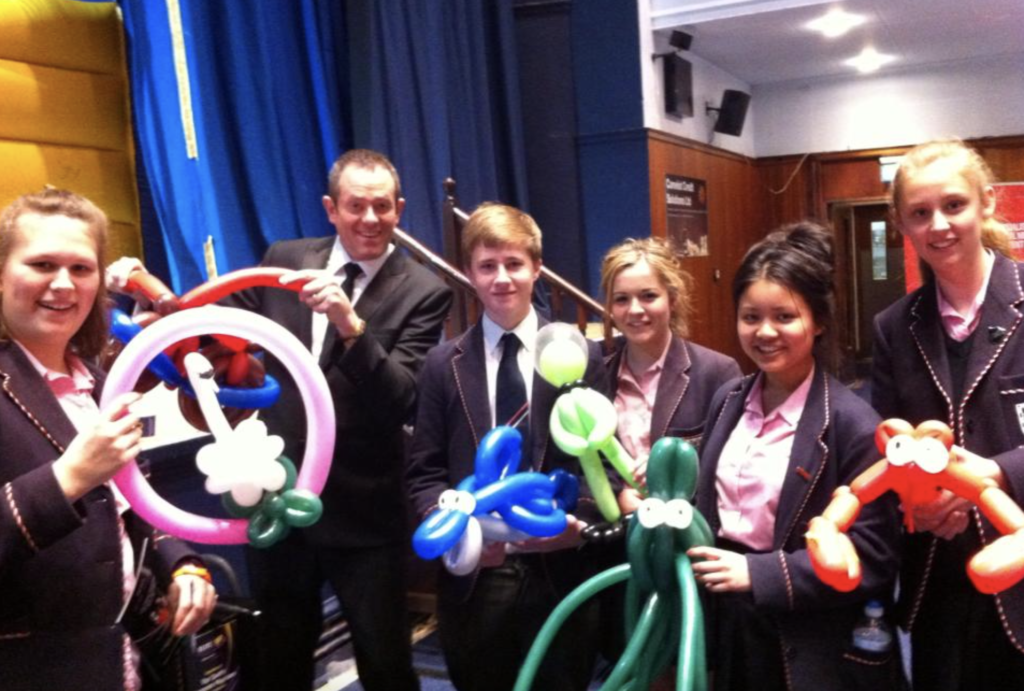 CHARLIE BALLOON TWISTING AT A CAREERS EVENT AT THE PORTSMOUTH GUILDHALL.
CHARLIE ENTERTAINING AT THE OPENING OF A NEW COMMUNITY CENTRE IN FAREHAM.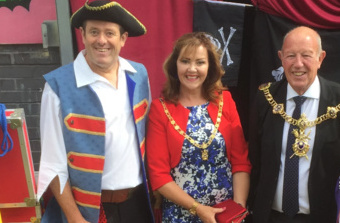 CHARLIE ENTERTAINING AT THE OPENING OF AN ADVENTURE PLAYGROUND IN PORTSMOUTH.
CHARLIE ENTERTAINING ONBOARD HMS ILLUSTRIOUS FOR THEIR FAMILIES DAY.
BALLOON TWISTING AT FRATTON PARK THE HOME OF PORTSMOUTH FOOTBALL CLUB.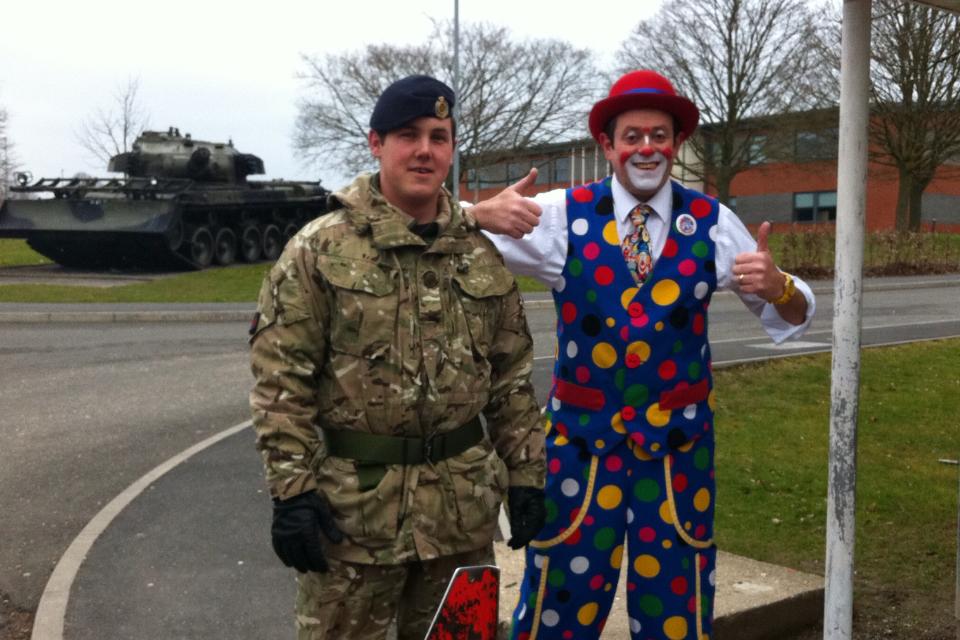 ENTERTAINING AT THE ROYAL TANK REGIMENT BARRACKS AT TIDWORTH.
Halloween is getting more and more popular in the UK nowadays and children love dressing up and joining in with all the spooky fun. Charlie can help you turn your next Halloween event into a spooktacular occasion by performing as his Charlie the Wizard, or as his friendly undertaker character. Everything is totally themed and the entertainment is spooky without ever being scary. You can book Charlie for the following.
Halloween Comedy Magic Show.
Halloween Music, Magic and Games Show
Spooky Disco, Magic and Games Show
Spooky Balloon Twisting
Spooky Mix and Mingle
As Charlie the Wizard with his wife Izzy Wizzy Witch
CHARLIE WITH A SPOOKY HELPER AT A HALLOWEEN PARTY IN WINCHESTER.
AT LARGER EVENTS CHARLIE THE WIZARD WORKS WITH HIS WIFE IZZY WIZZY WITCH.
ENTERTAINING WITH HIS HALLOWEEN SHOW AT A SCHOOL IN SOUTHAMPTON .
Christmas is a truly magical time of year. Charlie can help turn your next festive event into a truly memorable magic occasion by performing as his Charlie Christmas character. Plus everything will be totally Christmas themed. You can book Charlie for the following.
Christmas Comedy Magic Show.
Christmas Music, Magic and Games Show
Christmas Disco, Magic and Games Show
Festive Balloon Twisting
Festive Mix and Mingle
As Santa Claus with his Magical Elf Nikki
CHARLIE CHRISTMAS ABOUT TO PERFORM HIS SHOW AT A GOLF CLUB IN SURREY.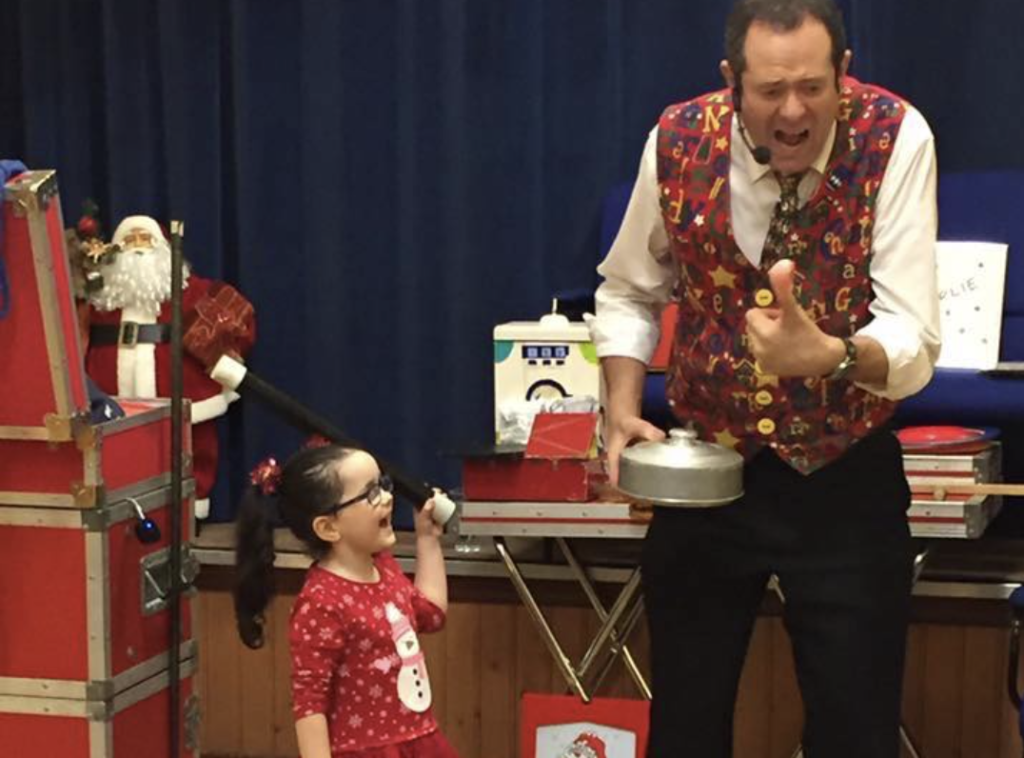 OUCH! THAT WAS MY THUMB! CHARLIE HAVING FUN WITH A LITTLE HELPER.
FESTIVE FUN WITH THE ONE AND ONLY SANTA CLAUS AND NIKKI THE MAGICAL ELF .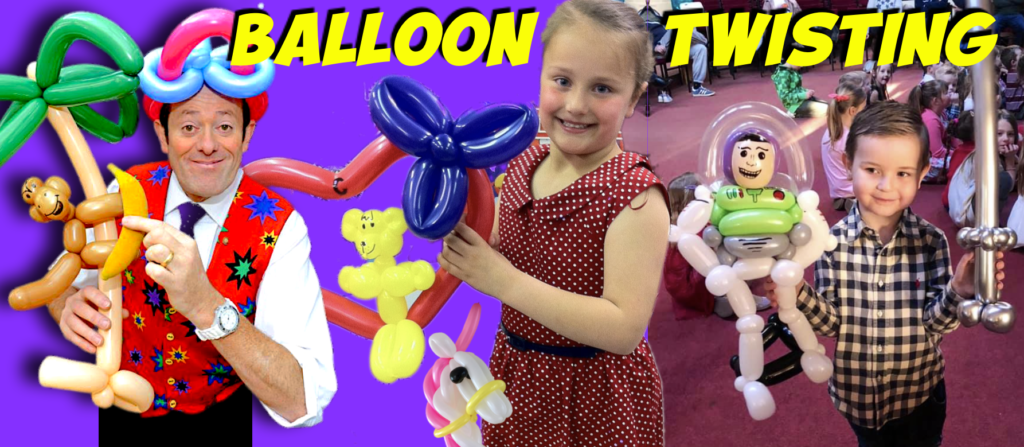 Children (and adults) absolutely love Balloons. They are colourful, fun and create smiles. That's why Balloons twisting (also known as balloon modelling) is an an ideal addition to any event or special occasion.
The nice thing about balloon twisting is that your guests get to take a memento of your special day or event home with them. Balloons can be made to fit any theme or occasion such as Christmas, Halloween, Easter or whatever occasion you are celebrating. If you are using balloon twisting for a promotion or product launch, when your customers leave your shop, store or showroom and walk away carrying their colourful eye-catching creation they usually get asked by other members of the public where they got their balloons from which in turn will generate further footfall back into your shop, store or showroom possibly creating extra paying customers.
Balloon twisting is also a great add-on. If you are looking at putting on say Magic shows throughout the day. Charlie can also twist balloons in between performances keeping your audience occupied and on the site.
Charlie AKA (Roy Charles) also provides entertainment for "Grown ups" in the form of either Close Up Magic or Stand Up Comedy Magic. Charlie has performed his comedy cabaret act in theatres, on luxury cruise liners all over the globe, in comedy clubs and even on TV. He is also an Award-Winning Close up magician. He is a member of the World famous London Magic Circle, The International Brotherhood of Magicians, The Portsmouth and District Magic Circle and British Actors Equity.
PERFORMING CLOSE UP MAGIC IN NAUTICAL  OUTFIT ONBOARD HMS WARRIOR PORTSMOUTH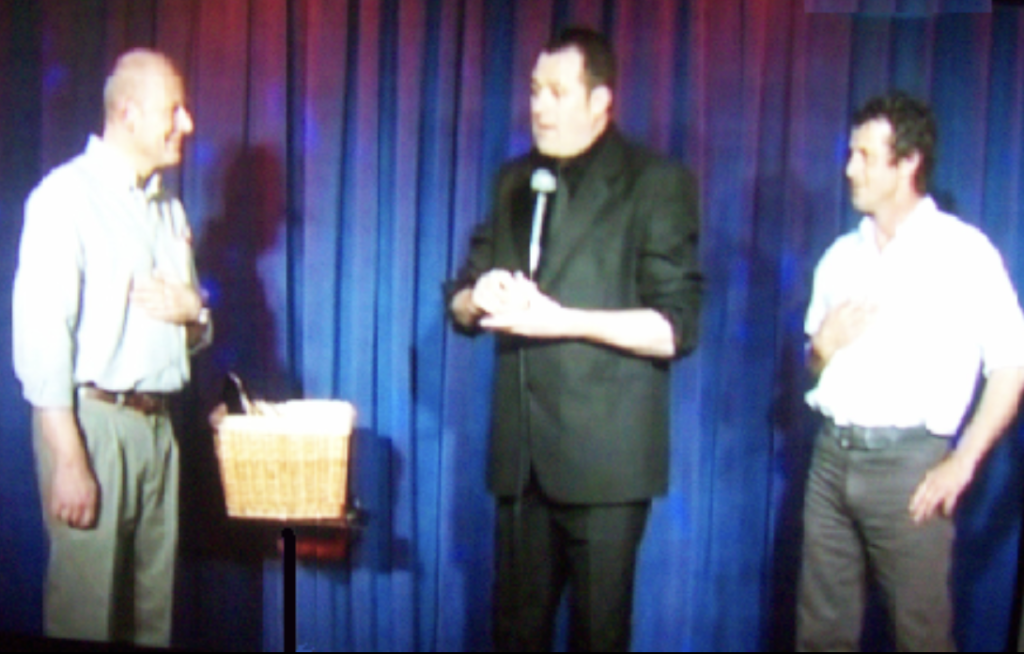 PERFORMING HIS COMEDY MAGIC ACT LIVE ON LAUGH A MINUTE ON TELEVISION FOR SKY TV.
CREATING MAGICAL MIRACLES, CLOSE UP RIGHT IN FRONT OF YOUR GUESTS VERY EYES.
MY MAGIC CIRCLE MEMBERSHIP CERTIFICATE
A VERY PROUD MEMBER OF THESE WELL RESPECTED ORGANISATIONS AND CLUBS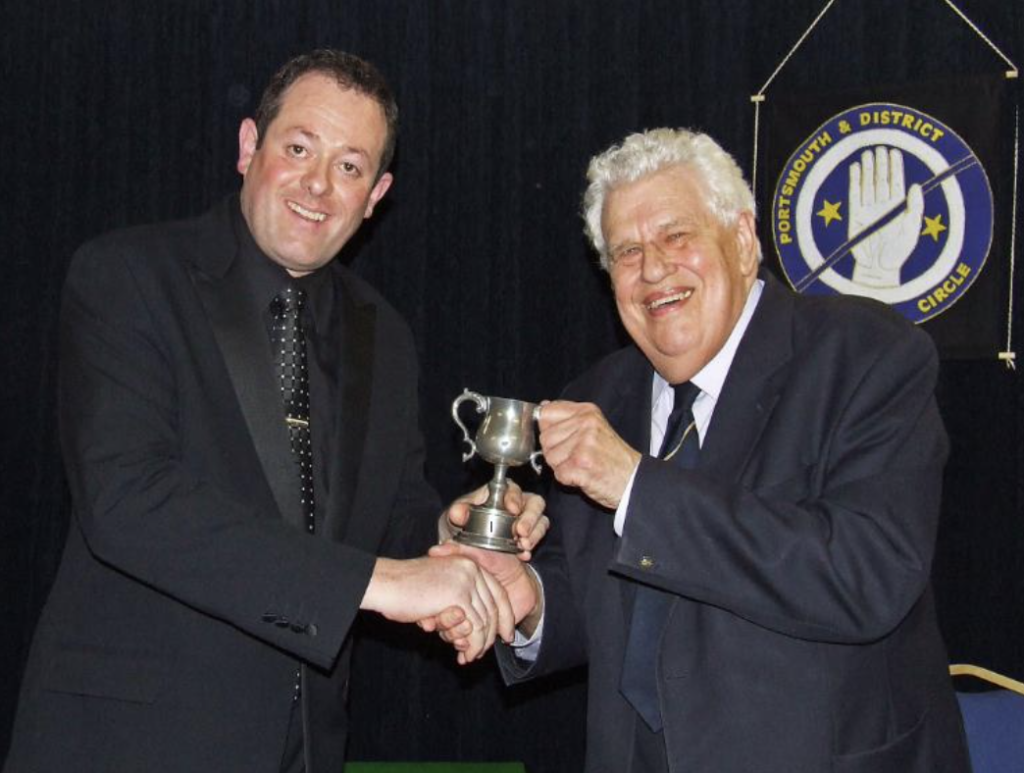 BEING AWARDED THE WILL AYLING TROPHY FOR CLOSE UP MAGIC FROM IBM'S BOB HAYDEN
FOLLOW ME ON SOCIAL MEDIA
Magician in Portsmouth,
Disco Shows in Winchester,
Children's entertainers Hampshire, Party magician Fair Oak, Southampton Magician, Balloon Twisting in Bognor and Chichester, Infant School and Preschool Magician, Pirate show Petersfield, Party Magician Gosport and Fareham, Magic Workshops in Stubbington and Locks Heath, Virtual Zoom Parties, Party Games show Eastleigh, Cruise Ship Entertainment Worldwide.
Charlie is proud to be a members of the following well respected Clubs and Organisations